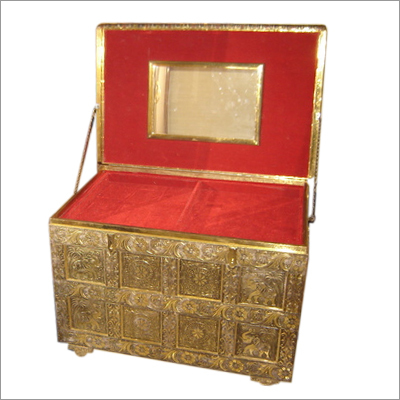 Metallic Jewellery Chest Drawer(Sandook)
Product Code : 003A
Product Description
This is the inner look of product code 003 when opened. Has a big mirror fitted inside which is adding to its beauty. THE SHALLOW TRAY which is visible in the picture can be used to keep small belongings such as jewellery sets, stoles, sarees, cutlery,stationery and for other trifling multi-purpose usables.
BENEATH THIS SHALLOW DRAWER , THERE IS GOOD ENOUGH DEPTH TILL THE BASE OF THIS BOX TO KEEP BIGGER ITEMS SUCH AS blankets, old clothes, flower vases, other delicate and huge items etc. PLZ CLICK TO PODUCT CODE 003 to see the CLOSED LOOK OF THE BOX.
PLEASE NOTE: PRODUCT CODE 001 is also same from inside as this one. THE ONLY DIFFERENCE BETWEEN PRODUCT CODE 001 & 003 LIES IN THE COMBINATION OF METALS USED IN THEM. REST IS SAME.
Dimensions : 36" * 24" * 25"