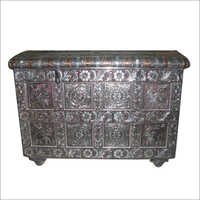 Metallic Jewellery Chest Drawer(Sandook)
Product Description
HANDMADE DESIGNER CHEST DRAWER (sandook) with minute intricate carving done by hand. Made of ALUMINIUM & COPPER metals.
AVAILABILITY: Can be made available in different sizes as per the requirement of the customer. Available in other combination of metals as well. For eg. ', ALUMINIUM & BRASS, BRASS & COPPER etc. ---as per the choice of the customer. Carving of special auspicious symbols such as CAMEL, ELEPHANT, LOTUS, gods, etc. can also be done for special requirements as per the choice of the client. SO GO AHEAD and HAVE SOMETHING of your VERY OWN PERSONAL CHOICE!!
OTHER USES: 1. Can be used as a DECORATIVE ROYAL &ATTRACTIVE ITEM for LIVING ROOM and simultaneously one can keep clohes,blankets , jewellery and other belongings as well. AN OPTIMUM UTILISATION of SPACE & STORAGE with a ROYAL TOUCH.
2. One can beautify the look of a CORRIDOR or a BALCONY /GALLERY/ PASSAGE of one's HOME/HOTEL/RESTAURANT/SHOP by placing it there as an ANTIQUE & ROYAL EYE CATCHER.
3. One can present this as a WEDDING GIFT gift to one's DAUGHTER or to any near & dear one.
Dimensions : 36" * 24" * 25"