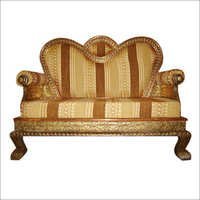 Brass & Copper Sofa
Product Description
HANDMADE Beautiful Heart Shaped Sofa made of Brass and Copper.Its Ornamental Work by artisans is Worth Appreciating.
AVAILABILITY:Available in more than two seaters as well , as per the requirement of the client.Can also be made in the combination of other metals such as brass with aluminium or copper with aluminium to suit the requirement and matching of the area where it is placed.
COLOUR: Colour scheme of the sofa Cloth can be chosen as per customer's requirements.
Shows off acient royal heritage of maharajas(kings). Decorate your living room/drawing room in the theme of "Royal Castle".
OTHER USES:Can also be used as side cozy seating arrangement in your Bedroom to give that feel of--"JUST FOR THE TWO OF YOU" .
Can also be presented as a wedding gift to someone special.